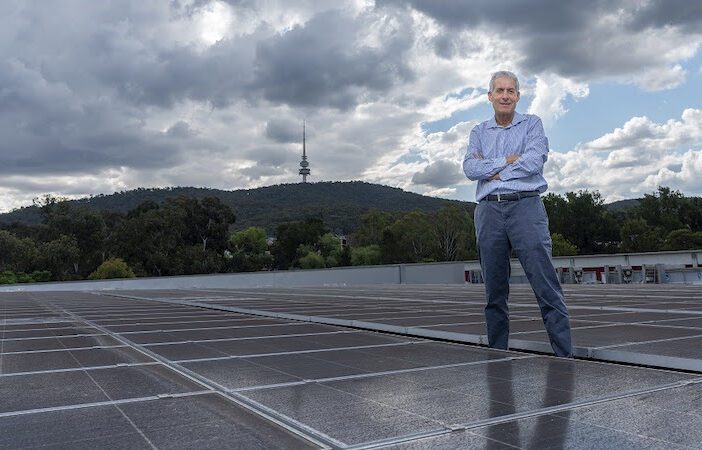 One of the four Australian solar researchers who have won the world's most prestigious engineering prize says it won't be long before solar is at a cost level across the world where it will "wipe fossil fuels out of the global economy.
The ANU's Professor Andrew Blakers was this announced as the winner of the Queen Elizabeth Prize for Engineering, in a joint award with Australia's "father of PV" Professor Martin Green from UNSW, and the husband and wife team Dr Aihua Wang and Dr Jianhua Zhao.
Blakers, in an interview on the latest episode of RenewEconomy's popular weekly Energy Insiders podcast, says that while Green has predicted a solar cost of $10/MWh, it won't need to fall that far to push coal and gas out of the global economy.
"I don't know about $10MWh,  it would be lovely if we got there," Blakers said.
"But we don't even need to get anywhere near $10/MWh to be completely dominant – at $20 to $30/MWh solar completely sweeps the board against any other technology apart from wind. It wipes fossil fuels out of the global economy, and I think it's highly likely that we will be in that range by 2030 in many places in the world."
The award for the four Australian researchers is a recognition of their work – and that of the teams behind them – in developing Passivated Emitter and Rear Cell (PERC) solar photovoltaic technology, which has now become the global standard and accounts for about 90 per cent of the world's solar cell market.
Decades of work lifted the efficiency of the solar cells by nearly two-fold (from around 14 per cent to 25 per cent) and in the process has taken the silicon solar cell – in the words of Blakers – "from a laboratory curiosity up to space out to remote regions, and now a global Juggernaut, which is sweeping fossil fuels off the stage."
Blakers interests, however, now extend to far more than solar cells, and he has been active in looking at the electricity system as a whole, the resources and locations needed for wind, solar, transmission and storage, and the integration into a cheap, clean, and reliable grid.
"It's quite clear that a solar and wind dominated grid is going to be much more reliable than a fossil fuel dominated grid," Blakers tells the Energy Insiders podcast.
"And there's a simple reason for this. When you've got millions of solar panels and thousands of wind farms, you can predict with a high degree of accuracy, how many will be broken at any one time.
"And unlike a fossil fuel dominated system where, whether through clapped out power stations, a lack of maintenance, an accident or an act of war, you can take out one power station and lose 10% of your generation capacity in a fraction of a second.
"This is simply not possible with a network solar and wind electricity system. The weather systems move slowly over the continent, you can see them coming, you'll have hours to days to see a band of cloud with no wind coming across Australia.
"We are going to end up with a highly resilient, highly reliable and extremely cheap, forever long term energy system."
And Blakers says that Australia should be proud of leading from the front, particularly in South Australia where the average share of wind and solar over the past year is nearly 70 per cent of local demand, and in the main grid where the main grid will soon reach instants where all demand will be met by wind and solar.
"I think it's very clear that all the politicians in all of the Australian states and territories know that the faster we go to solar and wind, the cheaper our wholesale electricity prices will be, and we can get away from being held to ransom by gas and coal companies," Blakers says.
"We're solving problems that appear to be really difficult to those who are at per cent solar and wind. Researchers in other countries they say, oh, it's gonna be really difficult to get to 40% 50% or whatever, pick a number, of solar and wind and I say, Well, you know, it's actually been remarkably straightforward.
"In Australia, the more solar and wind we've got, the lower the wholesale prices, we don't have blackouts, we've got a stable grid. We can see lots of problems buut we can also see lots of solutions.  And there'll be other solutions that come out of the woodwork as we push up against this or that barrier.
"It's it's just been marvellous to go back over some of the papers from even five or six years ago, about how hard and expensive this is all going to be.
In the trial, Emma, you remember that we can have reliability or low energy cost or low greenhouse emissions, but we can't have all three, well, whahat a lot of nonsense we getting all three.
Blakers makes a couple more observations that are really interesting for Australian policy makers, investors and developers, including those looking at ambitious green energy exports.
1/ He sees no need for an Asia super grid, arguing that because there is little change in the seasons and the sun is relatively constant, and land availability won't be an issue because floating solar will be a big thing, particularly in the calmer waters of central Indonesia, for instance.
2/ It will be different for Australia though, which does have distinct seasons, and will desperately need high voltage transmission lines from the north to the south, and even across the continent east to west. "It's all about transmission for the next five years," Blakers said, and added that he believed AEMO "has got it wrong" with its focus on AC transmission lines rather than high voltage DC.
3/ Pumped hydro storage plants, particularly in Australia, need a "head" – the difference in height between the top reservoir and the bottom one – of at least 600 metres to make economic sense. Too many projects proposed to date have "head heights" of between 100m and 200m.
4/ And agrivoltaics will be a big thing, providing income for farmers, boosts in yield from crops and pasturing, and more locations to produce cheap, green electricity. "A lot of horticultural crops actually increase production when you provide partial shading. And it's the coming fairly clear that pasturing also benefits from the shade provided by widely spaced solar panel rows," Blakers says.
"So it's a win-win: The solar company gets free lawn mowing and free inspections and, and monitoring. And the farmer gets leasing fees in in the long term from hosting the solar panels. So it's a really good match."
To listen to the full interview on the latest episode of the Energy Insiders podcast, please click here.
Giles Parkinson is founder and editor of Renew Economy, and is also the founder of One Step Off The Grid and founder/editor of the EV-focused The Driven. Giles has been a journalist for 40 years and is a former business and deputy editor of the Australian Financial Review.
via RenewEconomy https://ift.tt/vLGyfBz