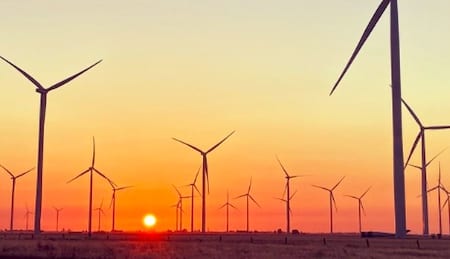 The instantaneous output of large scale wind and solar broke above 10 gigawatts in Australia's main grid for the first time on Friday, smashing the previous record by nearly one gigawatt.
The new peak of 10,228MW was reached at 8.15am on Friday morning, easily beating the previous record of 9,244MW set on September 17 last year, according to data from GPG NemLog2.
It featured a combination of 5.5GW of large scale wind and 4.7GW of large scale solar, which together accounted for just over 37 per cent of total output at the time. There was another 4.6GW of rooftop solar which took the total share of variable renewables to 53 per cent.
Records such as these will continue to be broken as more wind and solar are added to the grid. The peak share for variable renewables is 62 per cent, but the share records tend to occur in spring or autumn when demand is lower.
This graph below shows that the peak is  now four times higher than it was in early 2018, reflecting the huge amount of new capacity that has been commissioned in the last five years.
It was not the only record to fall in recent days.
According to GPG NemLog2 in South Australia, which leads the world in the share of wind and solar in its grid – an average 70 per cent of local demand over the last 12 months – the output of variable renewables broke through 3GW for the first time.
At 11am on Friday, the combined output of large scale wind and solar and rooftop solar reached 3,107MW, beating its previous record of 2,996MW, set in January. The share of gas also hit a record low of just 1.4 per cent. The state has already kicked out coal.
Victoria also set a new record for variable renewable output at 12.35pm on Friday, reaching 5611MW, a big jump from the previous record of 5130MW set just a week earlier.
Giles Parkinson is founder and editor of Renew Economy, and is also the founder of One Step Off The Grid and founder/editor of the EV-focused The Driven. Giles has been a journalist for 40 years and is a former business and deputy editor of the Australian Financial Review.
via RenewEconomy https://ift.tt/b2Ury1E