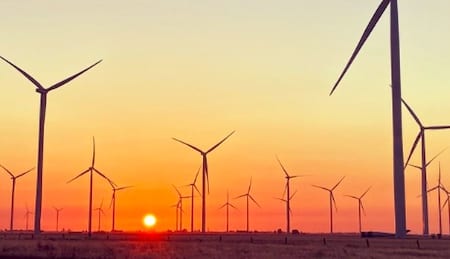 Record wind and solar generation delivered a sharp fall in electricity prices in Australia's main grid over the March quarter as their growth loosened the vice-like grip on pricing power of legacy fossil fuel generators.
Rooftop modules on homes and businesses also played a significant role, according to the Australian Energy Market Operator, with a 23 per cent jump in average output to a record 2,962MW sending operational grid demand down to its lowest level in almost two decades, since 2005.
The low level of demand, and the big increase in large scale wind and solar meant that the number of negative or zero pricing events increased dramatically.
These zero and negative pricing events occurred in one in eight dispatch periods across the main grid in the first quarter, and in more than half the time in the daylight hours in South Australia and Victoria.
Between 9am and 5pm, wholesale electricity prices in South Australia, which averaged nearly 80 per cent wind and solar over the quarter, were zero or negative in 60 per cent of dispatch intervals, and 55 per cent of intervals in Victoria, which has the next strongest share of wind and solar in its grid.
The high level and influence of wind and solar helped those two states achieve the lowest average wholesale prices in the quarter, of $55/MWh in Victoria and $72/MWh in South Australia, considerably lower than coal dependent states of NSW ($101/MWh) and Queensland ($104/MWh).
AEMO chief executive Daniel Westerman says the price caps on coal announced by the federal and state governments have also helped.
"Despite the continuing north-south price divide, black coal generators in New South Wales and Queensland have increased offer volumes in lower price bands following the announced caps on thermal coal prices, which has decreased the average price set by black coal generators," Westerman said.
This observation was warmly welcomed by federal energy minister Chris Bowen, who said the price caps had  shielded Australian households and businesses from the worst impacts of rising global energy prices.
"Today's report is further proof that Peter Dutton and his No-alition, when they voted against the Energy Price Relief Plan, voted for higher energy prices for Australian households and businesses," he said in a statement.
AEMO's Quarterly Energy Dynamics report notes that the only technology to actually lift its average bidding price during the quarter was hydro (hello, the federal government owned Snowy Hydro!).
Fortunately, wind and solar were able to exert more influence during the daylight hours, but hydro's pricing power held sway in the evening peaks.
"Over the evening peak the price-setting role of hydro generation has increased significantly to make it the most frequent price-setter by fuel type," the AEMO report said.
It said this reflects the flexibility of hydro generation and the greater value of water at the higher spot prices prevailing during evening peaks than at low and often negative daytime prices.
The flip side of the number of zero and negative prices was the level of curtailment of wind and solar farms, particularly in those areas where limited transmission meant the increased output could not find a market.
Westerman said the results underline the need for more transmission projects and firming capacity to connect to new wind and solar projects and to even out the variable nature of wind and solar generation.
"What these insights reinforce is that critical transmission investments, such as VNI West and EnergyConnect, are needed to share low-cost, low emission renewable energy with consumers," he said, adding that the zones connected by these new links had suffered the heaviest curtailment.
Other notable records in the first quarter was an increase in average grid scale solar (330MW) and wind generation (134MW) to a record quarterly average of 4,654MW. That is 11 per cent higher than the same time last year.
Instantaneous renewable penetration also hit a new Q1 record of 65.8% when rooftop solar PV accounted for 36 per cent of supply during this interval. And on February 11, rooftop solar PV output reached a record high output of 11,504 MW, which was 818 MW higher than the previous record set in Q4 2022.
Gas fired generation fell to its lowest level since 2005 to an average of 1,113MW, while brown coal generation in Victoria and black coal generation in both Queensland and NSW also fell significantly, with NSW suffering from increased outages.
This all resulted in emissions and emissions intensity both falling to their lowest level Q1 levels on record, with   total emissions in the quarter at 28.83 MtCO2-e, down 5.1 per cent from a year earlier, while emissions intensity dropped 4 per cent to 0.64 tCO2-e/MWh.
Giles Parkinson is founder and editor of Renew Economy, and is also the founder of One Step Off The Grid and founder/editor of the EV-focused The Driven. Giles has been a journalist for 40 years and is a former business and deputy editor of the Australian Financial Review.
via RenewEconomy https://ift.tt/VFjNt5A